Transparent Caching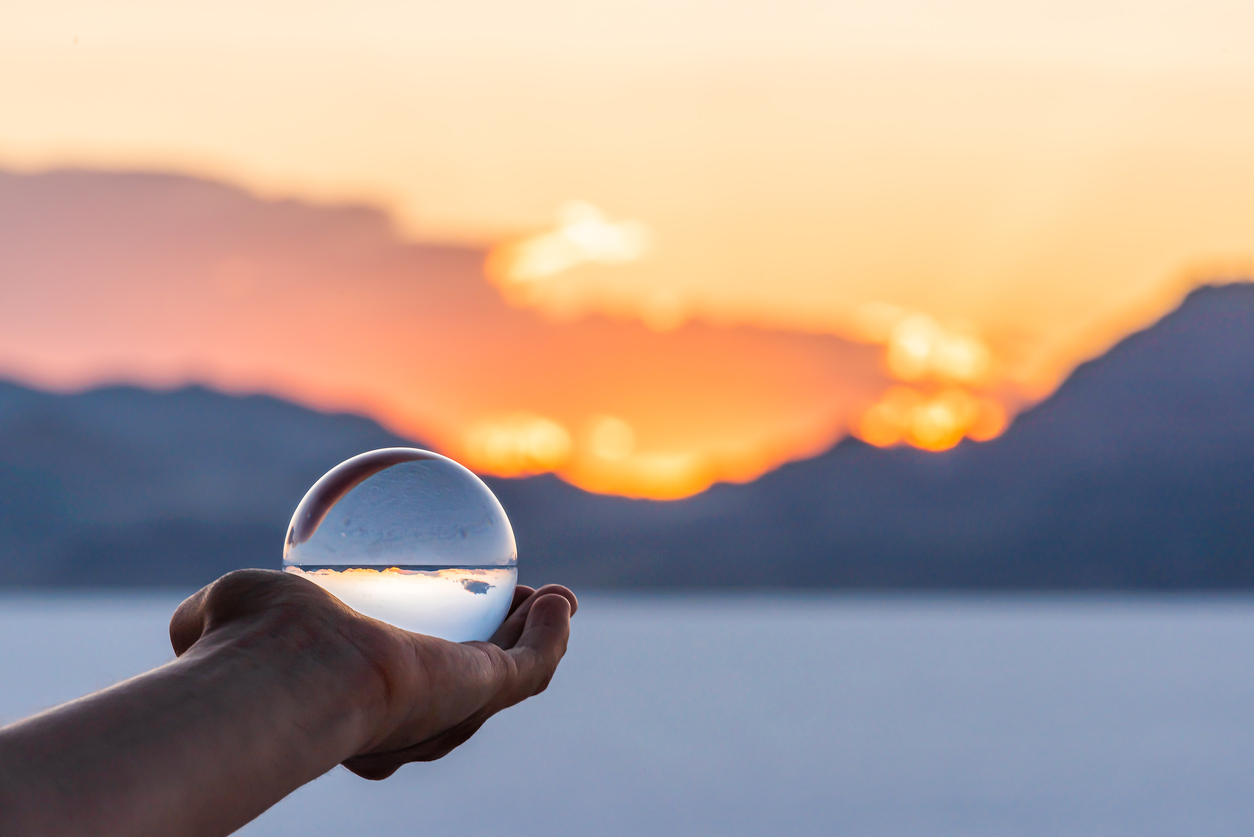 SenseDeep has always had powerful caching to underpin its great performance as a Serverless and log monitoring service. However, this was focussed on providing fast access to the most recent Lambda and CloudWatch data only.
This release transforms the data caching in SenseDeep and enables fast access to any Lambda or CloudWatch data regardless of age. Now, you don't need to plan how much data to cache and which Lambdas or logs you want to monitor.
SenseDeep now uses an intelligent, adaptive sparse-array data cache in your browser to accelerate access to any CloudWatch data, no matter how recent or old.
Previously
Before this release, you were limited to view only the most recent Lambda or CloudWatch data. SenseDeep would download and cache log data, but it was limited to recent data and the amount of information to be cached. You had to manually enable Lambdas or logs that you wished to monitor and configure the maximum age and amount of data to store.
In this release, SenseDeep makes the local cache totally transparent. It will automatically monitor and cache all Lambdas and Logs. You can access data for the past hour, day, week, month or any custom period and SenseDeep will seamlessly display and cache the data at the same time.
SenseDeep will prioritize the Lambdas and logs you view the most and will pre-cache the most recent events for them. The result is blazing and smooth performance in accessing any Lambda and log data. Serverless debugging has never been this fast.
Because SenseDeep does not unnecessarily replicate your Lambda and log data, you can view log data immediately without long delays imposed by most other Serverless and logging solutions. SenseDeep is the fastest Lambda and Log monitoring solution due to this unique architecture.
First Time Caching
When you first connect your AWS account, SenseDeep will inventory your Lambdas and Logs and will prefetch the most recent sample of Lambda and Log data. This provides you with a history of the most recent events. It also provides key metrics such as the estimated Lambda cost per month, the number of cold starts and the maximum memory utilized.
Thereafter, SenseDeep will continue to cache the most recent data for your Lambdas and Logs. The more you use SenseDeep, the faster it will become as it locally caches more of your data.
Prioritized caching
As you monitor your Lambdas and logs, SenseDeep will learn which are your most important Lambdas and logs. It will then prioritize those and continue to refresh the cache proactively.
The SenseDeep Lambda list and log list are sorted to put your priority Lambdas and logs first by default, for easy and quick access.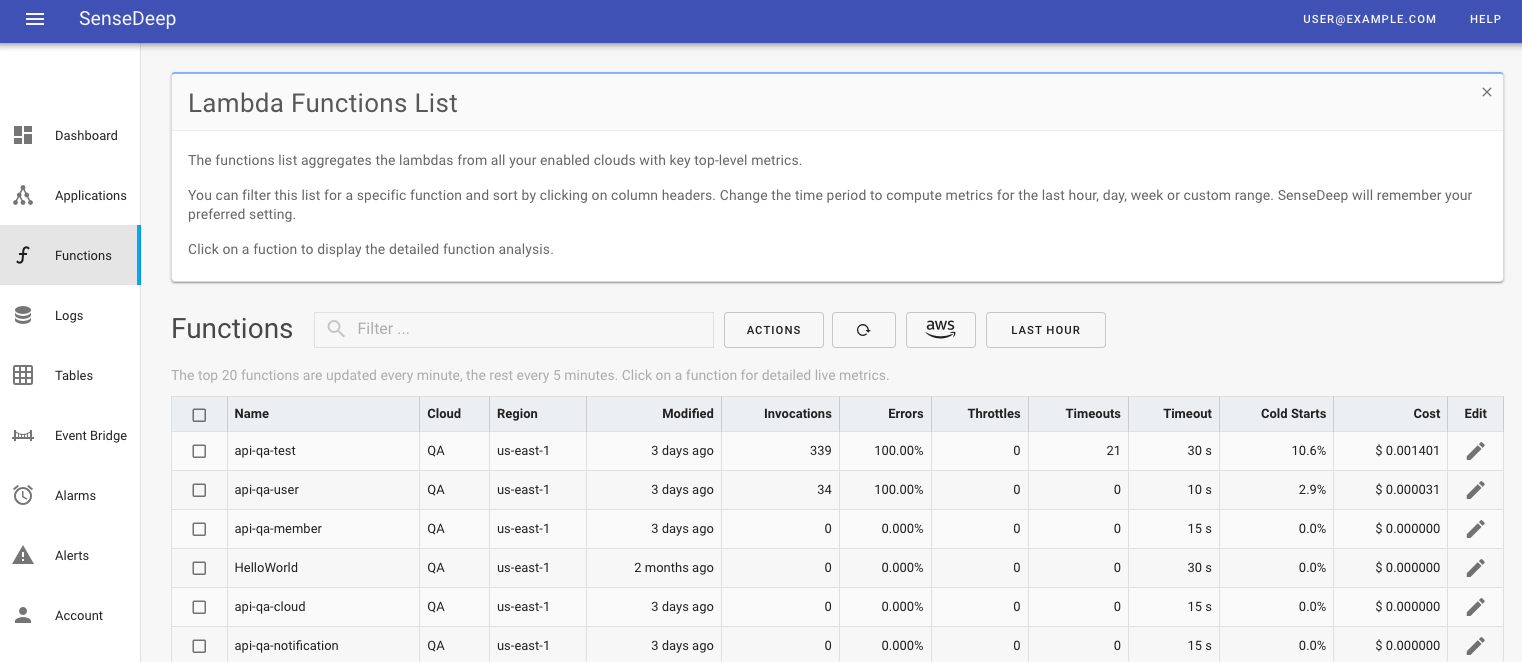 Custom Date Ranges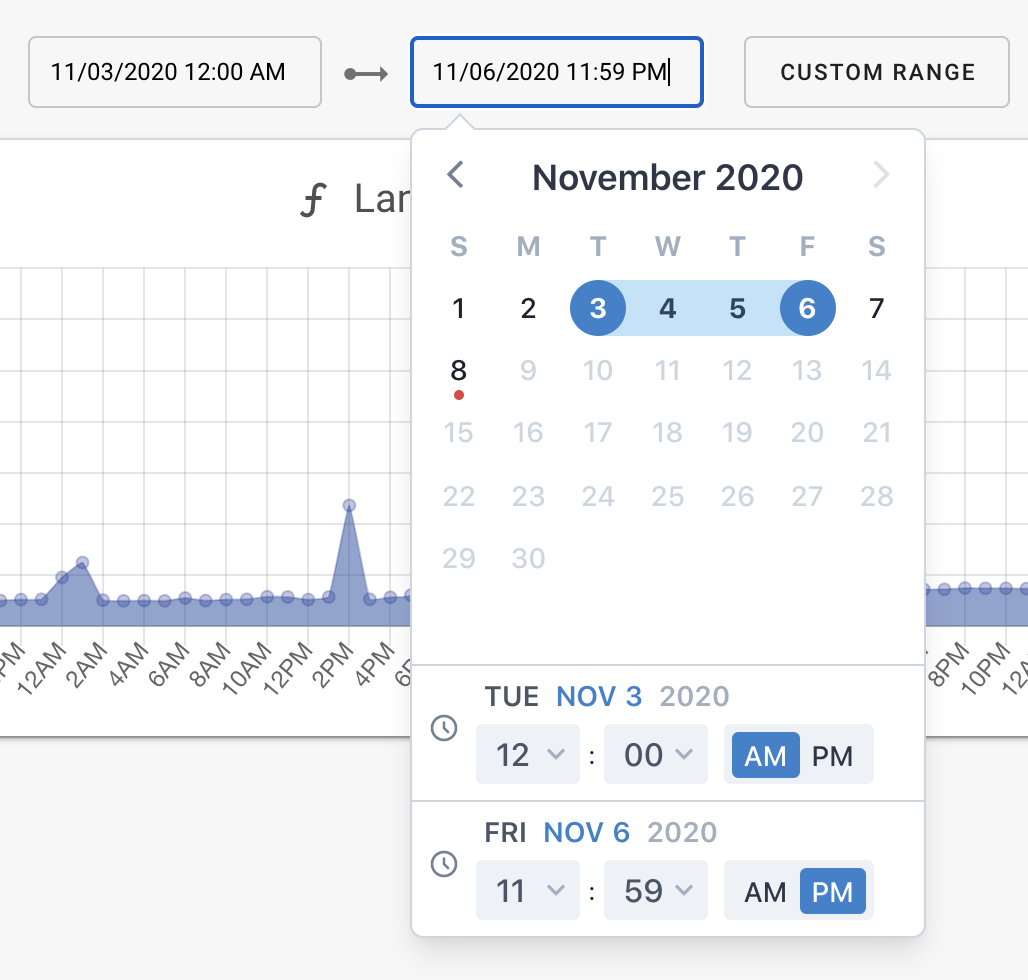 You can quickly jump to any custom date range with the new SenseDeep custom range dialog. You can specify the date and time range to view.
Alternatively, you can view data for the last hour, day, week or month.
SenseDeep will calculate your critical Lambda metrics and will display the most recent Lambda events for that period and calculate some key metrics for this sample.
Under the hood
SenseDeep is a VueJS single page app that communicates directly with AWS CloudWatch, Lambda and the SenseDeep backend service. In most cases, SenseDeep will retrieve Lambda and log data directly from AWS CloudWatch and will bypass the SenseDeep backend service. This completely eliminates the latency that plagues most other Serverless monitoring services.
SenseDeep uses an intelligent, sparse-array log cache for each Lambda and log group. It automatically accesses and aggregates the log data for multiple CloudWatch log streams. This is presented as a unified stream of events for a Lambda or log group. You don't need to hunt for which log stream to view.
Automatic refresh
SenseDeep will automatically refresh Lambda and log data. There is no "refresh" button to see if there are new events to inspect. By default, SenseDeep will check for new data every 10 seconds when you are viewing a Lambda or log. For other Lambdas and logs, SenseDeep will update the cache each minute.
Responding to Alerts
When an alert is triggered, the timestamp and event ID is saved in the alert message. When you click on an alert email, SMS or other alert message, your browser will display the full alert context. If you click "Goto Invocation", that exact Lambda or log event will be retrieved and displayed.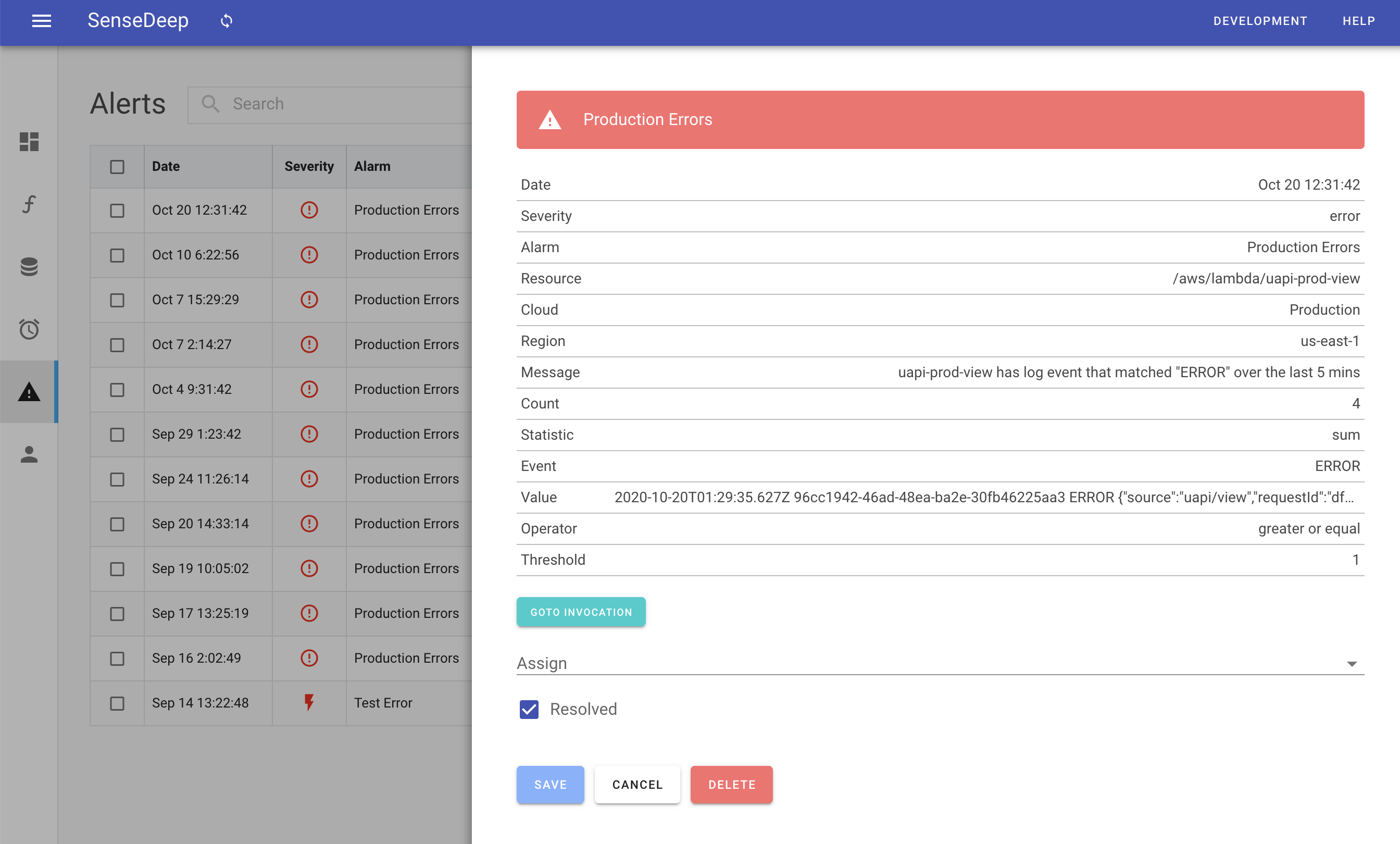 SenseDeep will seamlessly locate and retrieve the underlying Lambda/log data regardless of when it happened or which CloudWatch log group and log stream contained the event. If the event was a Lambda alert, then you can also click "All Logs" to see the log event in context with other events via the SenseDeep log viewer.
Summary
SenseDeep transparent, spare-array caching is the secret to SenseDeep's superior speed and performance. We've spent countless hours refining and optimizing the SenseDeep caching architecture so you can have the fastest, most efficient interface to dig into your Serverless events and issues.
Getting Started with SenseDeep
There is nothing to install. Just navigate your browser to: https://app.sensedeep.com/.
SenseDeep does not needlessly copy or replicate your log data that is stored in CloudWatch and does not charge any per-lambda or per-GB log ingestion fee. Your SenseDeep subscription is a small flat predictable fee regardless of scale.
To learn more about SenseDeep and how to use the app, please read the documentation at: https://www.sensedeep.com/doc/.
Please let us know what you think, we thrive on feedback. dev@sensedeep.com.
Links