PowerDown Benefits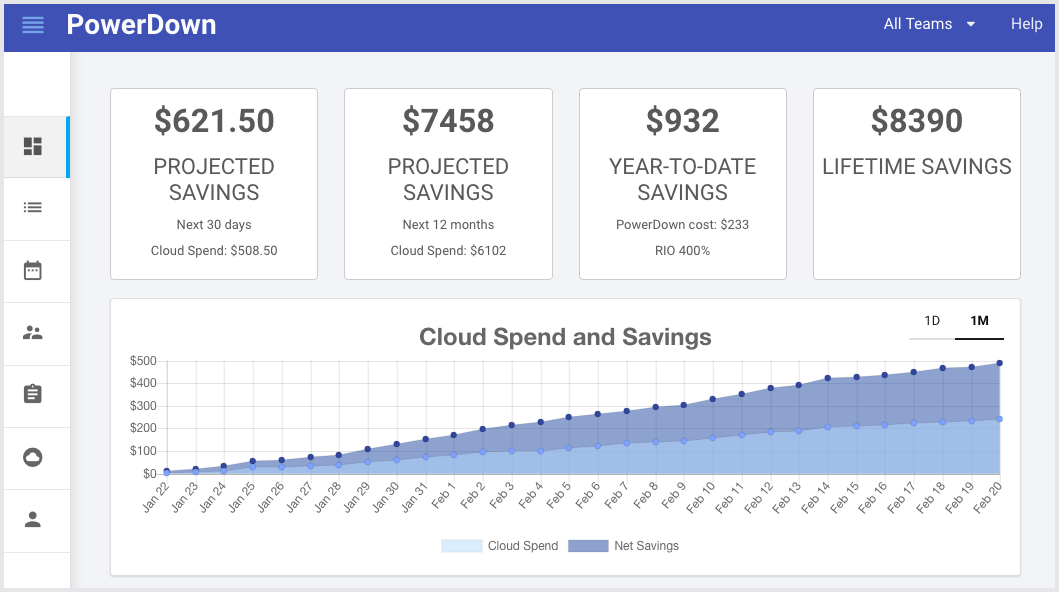 Reduce cloud spend by up to 80%.
Transparently manage the use of Spot instances in Auto Scale groups without any compromise in availability or performance.
Eliminate waste by powering down idle cloud resources.
Gain insight and clarity via the PowerDown cloud visualizer.
Save time by simplifying the management of cloud resources by operating at a higher level.
Automate resource scheduling regardless of user location and time zone.
Enhance cloud resource control and access security.
PowerDown Features
Spot scaler to transparently migrate workloads from On-Demand servers to cost effective Spot instances.
Resource scheduler to control cloud servers, databases and containers.
Automatic resource discovery from multiple clouds and multiple regions.
Cloud visualizer to organize and present cloud assets in an intuitive and flexible manner.
Personal schedules and override schedules for unforeseen resource needs.
Scheduler to automatically calculate when cloud resources are not needed and powers down those resources.
Resource groups to combine multiple cloud resources into a logical group.
Automated management of dynamic server instances and containers via tag matching policies.
Support for users in any time zone so they can simply state when they need resources to be available.
Web management application.
Command line interface program.
API to integrate with existing tools.
Reporting for a complete cloud trail of actions.
Web hooks and Lambda hooks to integrate with existing DevOps tools and processes.
Role-based access permissions to manage users and teams.
Reports for actual and projected cloud costs and savings on a resource, team and account basis.
Simple pricing so you pay less than 15% of what you save. If you don't save, you don't pay.