SenseDeep 2.0 — Collaborative Log View Sharing

SenseDeep 2.0 is now collaborative with great sharing and organizational features. Whether you are a development team needing to provide consistent easy access to logs for your entire team or a consultant needing to manage cloud infrastructure for your clients, SenseDeep makes it easy and painless to share and view cloud logs to quickly pin-point errors and important application conditions.
SenseDeep 2.0 includes the ability to create flexible SenseDeep organizations that map onto your existing team or customer structures so that you can easily create and share log views.
The important new features of SenseDeep 2.0 include:
Create and manage multiple organizations
Invite any number of users to join organizations and view logs
Login via social accounts with Facebook, Google or Amazon
Use the improved Log List with easy access to active logs
Save with reduced pricing and unlimited users
Organizations
SenseDeep organizations provide a way to group an arbitrary set of users who can then view and access CloudWatch logs for multiple AWS accounts. The organization can then provide and share log views for those logs with organization members.
By default, each user has a private, personal organization that is not shared. In 2.0, users can now create other organizations and invite other users to the organization to share log views.

To create an organization, click on Account > Organizations > Add Organization and specify the name of the organization. The name must be globally unique. i.e. you cannot use an organization name that has been already chosen by another user.
Once created, you connect SenseDeep to any number of AWS accounts to access their CloudWatch logs. Then you can invite users to your organization.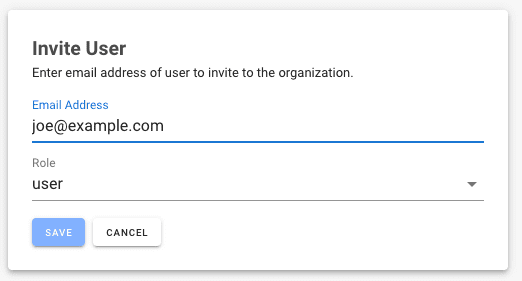 Users may be invited using their email address. Once invited, they will receive a message with a link to SenseDeep to join the organization. Users can be members of any number of organizations.
If the user already has a SenseDeep account, they can click on the link and login which will then display the organization in their account. If they do not already have a SenseDeep login, they can register and then login to gain access.
As SenseDeep 2.0 now has social login support, it is easy for users or clients to create SenseDeep logins without managing additional usernames and passwords. Additionally, SenseDeep is now priced per AWS account with unlimited users, so you can invite any number of users to your organization without incurring any additional charges.
User Roles
When you invite a member, you can assign a SenseDeep "role" to the user to control their access. The "user" role permits read-only access while a user with an "admin" role can modify Clouds, Logs and Views.
Social Login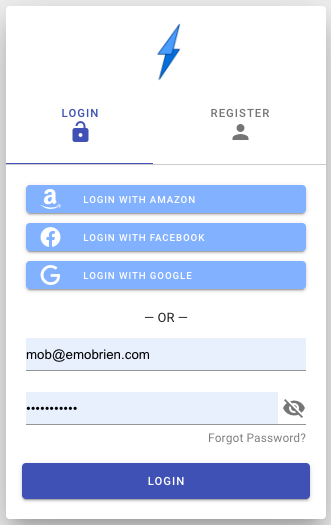 SenseDeep now supports login via the social sites: Facebook, Google and Amazon consumer accounts.
When creating a SenseDeep account, instead of the typical username and password, users can click on the relevant "Login with Amazon", Facebook or Google button and thus use their social networking account to establish their identity.
Improved Log List
SenseDeep 2.0 also has a long list of minor improvements. One welcome addition is the segregation of the Log list into Active logs which have log views and those that do not. This makes it much easier to locate and identify the logs you are most interested in.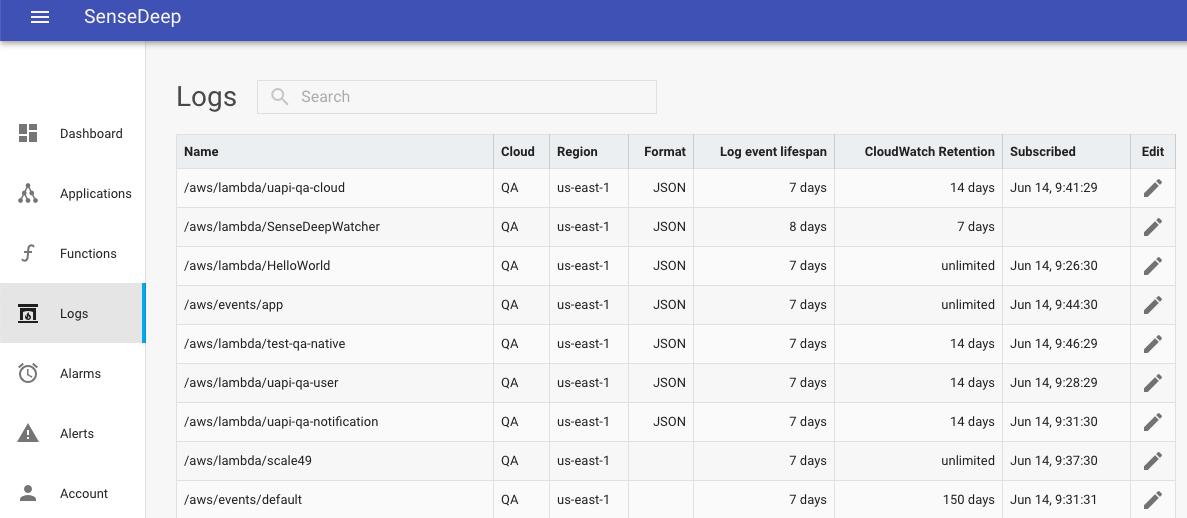 Summary
This 2.0 release extends SenseDeep to enable new use patterns. Previously, consultants with multiple clients had to use the not very user-friendly CloudWatch UI, but SenseDeep 2.0 allows them to pre-create the exact log views of interest to their clients.
Development teams can now invest once in creating the precise log views that capture important application conditions, errors and events. Then those views can be shared immediately with all developers and those involved in all DevOps tasks.
Browser Based
SenseDeep is the best CloudWatch Logs viewer. It is 100% browser based and rather than duplicating log event data in a 3rd party solution, SenseDeep transparently downloads log events and caches them locally in your browser. As you scroll forward or backward, SenseDeep fetches new log events in the background to anticipate your need. With SenseDeep, events can be displayed, queried, and scrolled with lightning speed.
Getting Started
There is nothing to install. Just navigate your browser to: https://app.sensedeep.com/
To learn more about SenseDeep and how to use the app, please read the documentation at: https://www.sensedeep.com/doc/.
Please let us know what you think, we thrive on feedback: dev@sensedeep.com.
Links