← App Help
Connecting AWS Accounts
AWS accounts are connected to SenseDeep via a "Cloud Connection" which nominates the AWS account and a specified region.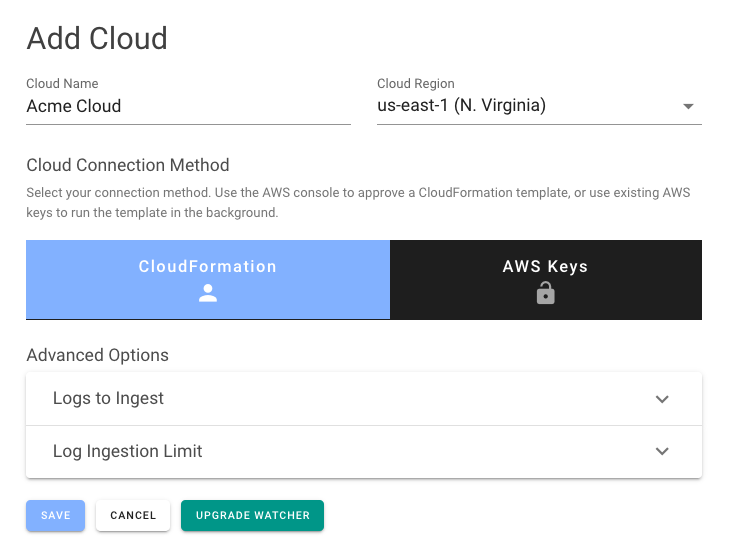 You can connect an AWS account by creating an IAM role that is used to grant limited access by SenseDeep to your account. This is the recommended connection method as it is more secure and the SenseDeep alarm feature requires the IAM role to run an Alarm watcher over your account.
You may alternatively use AWS access and secret keys, however you will not be able to create SenseDeep alarms.
It is recommended that you use the IAM Role method to connect your account as it is more secure. Furthermore, the SenseDeep alarm feature requires the IAM role method.
IAM Role
The IAM role is created in your account via a CloudFormation template. This runs and creates the necessary IAM role and resources to enable SenseDeep in your account. When you click Save from this page, you will be prompted to confirm the action before being redirected to your login to your AWS account in a new browser tab. After logging in, you need to confirm the Cloud Formation template. When the template completes, return to the SenseDeep page to begin using the service.
Once your cloud account is connected, SenseDeep will immediately begin discovering all your cloud resources. SenseDeep will rescan your cloud resources every minute and more frequently on some pages. If you re-save the cloud configuration, an immediate rescan of your cloud account will be performed.
Plans
The SenseDeep professional plan supports one connected AWS account. The team plan supports multiple AWS accounts with a soft limit of 20.
If you have resources in multiple AWS regions, you need to create a SenseDeep cloud for each AWS region.
App Links